iPad
Apple's entry-level 10.2-inch iPad with Apple Pencil and Smart Keyboard support, starting at $329.
Should You Buy an Entry-Level iPad?
The iPad is Apple's most affordable and most popular tablet, and the ninth-generation model features the A13 Bionic chip, a considerably improved front-facing camera for video calls, and more.
Announced in September 2021, the ninth-generation iPad is among the newest iPads in Apple's lineup and it is early in its product cycle. Apple usually updates the entry-level iPad annually, and there is a new model on the horizon. for that reason, you may want to wait to buy an iPad.
While the iPad is Apple's most inexpensive iPad model for those who want a balance of features and affordability, users looking for a smaller iPad with better specifications should consider the iPad mini, which starts at $499.
On the other hand, for an iPad with a larger display and better specifications, there is the $599 iPad Air, which offers a faster M1 processor, a USB-C port, and more.
What's Next for the Low-Cost iPad
A refreshed 10th-generation iPad is rumored to be coming before the end of 2022, and it will include some notable upgrades. Apple is rumored to be adding a USB-C port, swapping over from Lightning, and it is expected to feature a larger 10.5-inch display, up from the current 10.2-inch display.
It will include an upgraded A14 Bionic chip and 5G connectivity to allow iPad users to connect to faster 5G networks. There's no word on design updates at this time, so it is unclear if Apple will add a Touch ID power button or stick with the Home button. The 2022 iPad will likely see a refresh in the fall.
Apple is also rumored to be working on a new 14.1-inch iPad, which could be a low-cost model, according to display analyst Ross Young. The display is not expected to feature mini-LED or ProMotion, but it would be odd for Apple to make its largest iPad a low-cost model, so take this information with a grain of salt until we know more.
Apple's 2021 Ninth-Generation iPad
Apple introduced the ninth-generation iPad in September 2021, featuring a number of improvements over the previous model, including the A13 Bionic chip, True Tone, a better front-facing camera with Center Stage, and more.
The ninth-generation iPad looks the same as earlier models with an aluminum body that is slightly thicker than the iPad Air and iPad Pro models.
As with the seventh and eighth-generation iPad, the ninth-generation iPad continues to offer a 10.2-inch display, which offers more viewing area than the 9.7-inch iPad that was sold a couple of years ago. The 10.2-inch iPad is Apple's smallest iPad display after the 8.3-inch iPad mini. The 10.2-inch display has a resolution of 2160 x 1620 at 264 pixels per inch and it offers nearly 3.5 million pixels along with 500 nits brightness.
The iPad now features Apple's A13 Bionic chip, which was first introduced with the iPhone 11 and iPhone 11 Pro in 2019. While it is slower than the M1 chip in the iPad Air, it is much faster than the A12 chip that was in the last-generation entry-level iPad.
The iPad also gets a significantly improved 12-megapixel Ultra Wide front-facing camera with a 122º field of view and a ƒ/2.4 aperture, which is a major upgrade from the previous 1.2-megapixel FaceTime camera. The front-facing camera also supports Center Stage to keep subjects in frame during video calls.
The iPad also now starts with 64GB of storage and features a 256GB storage option, doubling the base storage options from the previous generation.
Other iPad features include an 8-megapixel camera with 1080p video recording, Gigabit-class LTE for cellular models, an "all-day" 10 hours of battery life, Touch ID, Apple Pay support, and 802.11ac WiFi. Apple Pencil support continues to be included, and there's a Smart Connector so the iPad works with the Smart Keyboard for the 10.2-inch iPad.
The ninth-generation iPad continues to be positioned as an affordable, entry-level tablet for educational institutions and those on a budget, with prices that start at $329 or $299 for Apple's educational institution customers.
Available in Silver and Space Gray, the iPad starts at $329 for 64GB of storage and is available for purchase from the Apple online store and Apple retail stores. The Apple Pencil is available separately for $99, as is the Smart Keyboard, priced at $159.
Note: See an error in this roundup or want to offer feedback? Send us an email here.
Reviews
Reviews of the ninth-generation iPad have been positive, with reviewers generally feeling that the iterative update hits most of the right notes in terms of prioritizing upgrades to storage, performance, and the front camera. As an overall take, CNET's Scott Stein argues that the "good enough" entry-level iPad actually "covers all the bases best" out of Apple's entire iPad lineup at the moment.
One of the most welcome improvements in the new iPad is an increase in the base storage from 32 to 64 GB, although even that may not be enough for some users, as highlighted by Tom's Guide.
Gizmodo's Caitlin McGarry highlights the improvements to the front-facing camera, which include vastly improved resolution and the Center Stage feature that uses the Ultra Wide front camera lens to automatically keep you centered on camera even as you move. She remarked that "The difference is huge. Huge! I no longer look like a grainy, 2004-era me when I make video calls on the new iPad, and the Neural Engine-powered Center Stage feature makes it so I can move around while chatting (perfect for calls while cooking)."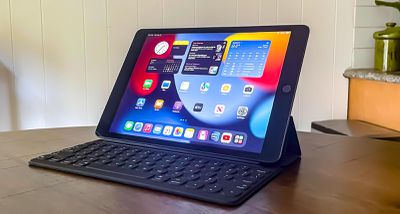 Photo via Tom's Guide
Ars Technica's Andrew Cunningham said that the A13 Bionic chip in the new iPad, up from the A12 chip in the previous-generation model, calling it a "nice generational bump" but "not transformative." CNN's Jacob Krol agrees, noting that performance is "not a night and day upgrade" but that the new iPad handles everything but the most intense tasks smoothly and will offer a bit more futureproofing compared to the A12 in the eighth-generation model.
Several reviewers looked at battery life, with Gizmodo finding that the entry-level iPad lasted just a bit longer than the iPad Air in a video-streaming test at 10 hours and 42 minutes, also handily beating the 12.9-inch iPad Pro. CNN's video-streaming battery test yielded 9 hours and 45 minutes, a 25-minute increase compared to the previous-generation iPad.
Overall, reviewers found that the ninth-generation iPad continues to offer the solid value that has made Apple's cheapest iPad its most popular model over the years. With its closest competitors the iPad Air and iPad mini having both received significant updates recently, the base iPad is definitely looking a bit dated with its big bezels, traditional Home button, Lightning connector, and unchanged overall design, but it continues to get the job done at the right price for many.
For more thoughts on the iPad, see our detailed review roundup.
Issues
Apple has discovered a bug on "a limited number of devices" that can cause widgets to revert to their default settings after restoring an iPad from backup, as well as a bug that prevents users from accessing the Apple Music catalog, Apple Music settings, or Sync Library after restoring from a backup.
Design
The 2021 ninth-generation iPad is identical to the prior eighth-generation model in design, offering the same 10.2-inch display surrounded by slim side bezels and thicker bezels at the top and the bottom.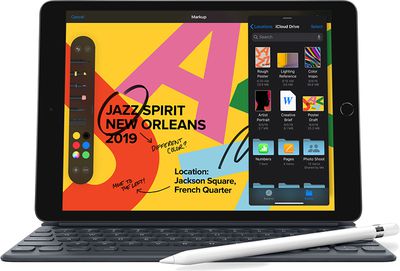 At the bottom, there's a Touch ID Home button, and this is in fact the last iPad that has a Home button and the only iPad that has thick bezels. Apple's other iPads, including the iPad mini, iPad Air, and iPad Pro, all have full-display designs with slim bezels and no Home button.
Made from aluminum, the low-cost iPad can be purchased in Space Gray or Silver, with Apple dropping the Gold color that was available in 2020. Along with the Touch ID Home button, there's a FaceTime HD camera at the top of the tablet, a single-lens camera at the back, a two-speaker audio system, dual microphones, and a Lightning port at the of the device.
The ninth-generation iPad measures in at 9.8 inches (250.6 mm) long, 6.8 inches (174.1 mm) wide, and 0.29 inches (7.5 mm) thick, weighing in at 1.07 pounds or 487 grams, with no changes to the dimensions compared to the previous model. A Smart Connector at the side allows the iPad 9 to work with accessories like the Smart Keyboard.
Display
The ninth-generation iPad has a 10.2-inch Retina display with a resolution of 2160 by 1620 at 264 pixels per inch, with 500 nits brightness. Compared to the previous model, the 2021 iPad has True Tone functionality for the first time.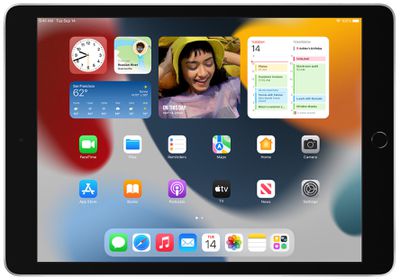 With True Tone, the temperature of the display shifts to be warmer or cooler to match the lighting in the room that you're in so there's not a stark difference between the color of the display and the ambient light.
The display is also equipped with a touch sensor that allows it to work with the first-generation Apple Pencil, and it has a fingerprint-resistant oleophobic coating. Compared to Apple's more expensive iPad models, the ninth-generation iPad lacks a laminated construction to bring the LCD closer to the glass, an anti-reflective coating, and Wide color support.
Apple Pencil
The low-cost iPad is designed to work with the original Apple Pencil. Apple's entire iPad lineup supports the Apple Pencil, although only this low-cost iPad supports the original Apple Pencil while all other current-generation iPads support the second-generation Apple Pencil.

The Apple Pencil is a stylus that's designed to offer unparalleled precision and integration with the iPad while also offering a natural feel that's similar to the sensation of using a pen or pencil on paper.
There are pressure and positioning sensors built into the Apple Pencil to allow it to detect a range of forces for pressure-sensitive drawing and writing. Two tilt sensors in the tip of the Apple Pencil determine the orientation and angle of the hand holding it, enabling shading techniques.
The Apple Pencil offers a 12-hour battery life and it charges through the built-in Lightning connector at the bottom of the device. A 15-second charge delivers a half-hour of power, so it's always going to have juice when needed.
A13 Bionic Chip
Apple added an updated A13 Bionic processor to the ninth-generation iPad, which is an upgrade over the A12 Bionic processor that was used in the eighth-generation model.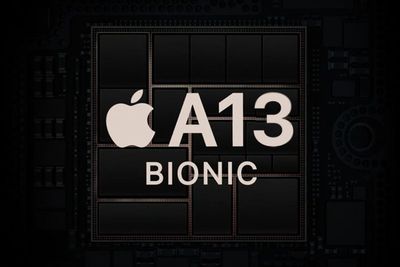 The A13 chip was first introduced in the iPhone 11 that was initially released in September 2019. According to Apple, the A13 brings up to 20 percent faster GPU performance compared to the A12.
RAM
The ninth-generation iPad includes 3GB RAM, with no improvements over the prior-generation model.
Storage
Apple offers the iPad in 64GB and 256GB size options, with no 128GB model available.
Battery Life
The iPad is equipped with a 32.4 watt-hour lithium-polymer battery that lasts for up to 10 hours when surfing the web on WiFi or watching video.
Rear Camera
Apple made no improvements to the camera and the ninth-generation iPad is using camera technology that's several years old.
There's an 8-megapixel rear camera with an ƒ/2.4 aperture. It supports Live Photos, auto HDR, 43-megapixel panoramas, Burst mode, and Timer mode, but it is not as advanced as the iPad Pro camera. There is also no rear flash.
The iPad's camera is able to capture 1080p HD video at 30 frames per second and 720p Slo-mo video at 120 frames per second. Compared to the iPad Pro, it lacks 4K video recording, improved video stabilization, and continuous autofocus.
FaceTime Camera
As for the front-facing FaceTime camera, Apple has made several improvements and the front-facing camera is the major new feature added to the ninth-generation iPad. It features an ƒ/2.4 12-megapixel Ultra Wide lens with a 122-degree field of view, and it supports HDR for photos and 1080p video recording at 25, 30, or 60 frames per second.
It also supports auto image stabilization, burst mode, time-lapse video, and Cinematic video stabilization.
Like the iPad Pro and iPad mini, this Ultra Wide lens is compatible with Center Stage. Center Stage is designed to keep you in focus and perfectly framed when you're on a FaceTime video call. The wide-angle front-facing camera shows more of the room that you're in, while the A13 chip works to keep you front and center even as you move around.
If more than one person is participating in the call, the camera will zoom out to attempt to keep everyone in view and make sure they're part of the conversation. Though designed with FaceTime in mind, Center Stage also works with other third-party video apps like Zoom.
Other Features
Touch ID
The ninth-generation iPad has a Touch ID fingerprint sensor built into the Home button on the front of the device. Touch ID is used to unlock the device, access apps, and make purchases with Apple Pay.
WiFi, LTE and Bluetooth
The iPad supports 802.11ac Wi-Fi with speeds up to 866 Mb/s and Bluetooth 4.2. The WiFi + Cellular version of the iPad offers Gigabit-class LTE and it includes the Apple SIM for connecting to cellular data networks in more than 100 countries.
Sensors
The iPad includes a three-axis gyro, an accelerometer, an ambient light sensor, and a barometer.
How to Buy
The 10.2-inch iPad, available in Silver and Space Gray, can be purchased from the online Apple Store and Apple retail stores. The 64GB storage option is priced at $329, with 256GB of storage available for $479.
A Wi-Fi + Cellular option is also available, with 64GB of storage priced at $459 and 256GB of storage priced at $609. The Apple Pencil that works with the 10.2-inch iPad is available for purchase from the online store or Apple retail stores for $99. The Smart Keyboard can be purchased for $159.
iPad Buyer's Guide
If you're trying to figure out which iPad is best for you out of Apple's current tablet lineup, make sure to check out our iPad Buyer's Guide, which goes through each of the available options and helps you figure out which iPad will meet your specific needs.