OS X Yosemite
Released to the public on October 16, 2014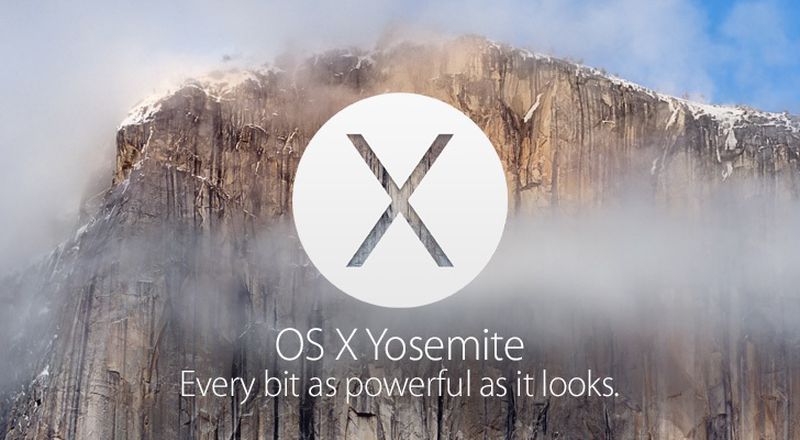 What's New
Apple released OS X Yosemite to the public on October 16, 2014, following a media event that saw the unveiling of new iPads, a new Retina iMac, and a new Mac mini. It was succeeded by OS X El Capitan on September 30, 2015.
OS X Yosemite was made available through the Mac App Store at no cost. Prospective users needed 2GB of RAM and 8GB of storage space, along with Snow Leopard at a minimum as Mac App Store access was required.
Originally unveiled during Apple's Worldwide Developers Conference on June 2, 2014, Yosemite went through several months of beta testing before it saw its public release. Apple also launched a public beta for OS X Yosemite for the first time, allowing more than a million users to test the software before its release.
OS X Yosemite introduced a number of visual changes, including a flatter, more modern look that emphasizes translucency, streamlined toolbars, and smarter controls.
Yosemite also included a number of feature improvements, such as a "Today" view in Notification Center, that offers a wider variety of information including integration with third-party apps and Spotlight search, which was been improved with new data sources, behaving more like a search engine by pulling in data from Wikipedia, Maps, movies, news, and more.
Apple also brought improvements to a number of core OS X apps in Yosemite, including Safari, which featured a streamlined toolbar, a new "Favorites" view for bookmarks, and frequently visited sites. A new Tab View also made it easier to manage multiple open tabs across various sites, while the more robust Spotlight functionality brought more power to the Safari search bar.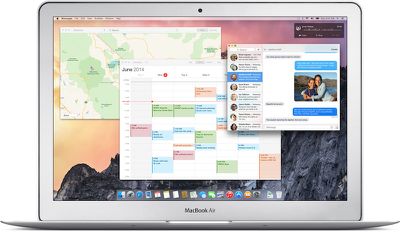 Mail also saw a number of improvements, including a new Mail Drop feature that allows users to seamlessly send and receive attachments up to 5 GB in size via iCloud, bypassing the typical much smaller attachment size limits of many email providers. A new Markup feature also allowed users to easily make Skitch-style annotations to images and other documents right from within Mail.
Messages on Mac gained the ability to handle SMS messages, allowing users to keep all of their conversations synced across iOS and Mac devices. Messages could also be used to send audio and video clips, and it became possible to see the physical location of friends (as in the Find My Friends iPhone app).
A major theme of OS X Yosemite was "Continuity", ensuring that users could move seamlessly between devices. With Yosemite and iOS 8, users were able to use a new Handoff feature to switch devices and pick up right where they left off. Users could make and receive phone calls right from their Macs with iPhone integration, while Mac users out of range of Wi-Fi networks could initiate Instant Hotspots on their iPhones with a single click on the Mac.
Current Version
The final version of OS X Yosemite was OS X 10.10.5, an under-the-hood update that introduced bug fixes, security enhancements, and performance improvements. Most notably, 10.10.5 fixed the DYLD_PRINT_TO_FILE privilege escalation vulnerability that could allow malware to gain root access to a Mac.
OS X 10.10.4 came before OS X 10.10.5, seeded to the public on June 30. OS X 10.10.4 was also an under-the-hood update that brought bug fixes and performance improvements, including the removal of the problematic "Discoveryd" process, which caused multiple networking issues for sme users in OS X Yosemite. OS X 10.10.4 also introduced TRIM support for third-party solid state drives.
Prior to OS X 10.10.4, Apple released OS X 10.10.3, released in April. The update brought the new Photos for OS X app, which includes a Yosemite-style design, iCloud Photo Library integration, and more. It replaces iPhoto and Aperture.
OS X 10.10.3 also introduced an updated emoji menu plus new emoji options and emoji skin tone modifiers. It added direct support for Google 2-factor authentication when setting up Google services in the Internet Accounts section of System Preferences, included new Force Touch APIs for developers, and new data sources for the "Look Up" feature. When right clicking as one would to get a dictionary definition, there's now more information available from sources like iTunes, the App Store, and there are movie showtimes, nearby locations, and more.
Prior to releasing OS X 10.10.3, Apple launched 10.10.2 in January. The update was a minor one, focusing on fixing lingering issues in Yosemite, like problems with Wi-Fi, issues with Safari web pages loading slowly, and problems with audio and video syncing when using Bluetooth headphones.
OS X 10.10.2 also fixed several notable security flaws, including an issue that caused Spotlight to load remote email content even when the Mail preference was disabled, vulnerabilities detected by Google's Project Zero, and the "Thunderstrike" hardware exploit affecting Thunderbolt-equipped Macs.
OS X 10.10.2 was the operating system's second update. The first, OS X 10.10.1, was released to the public on Monday, November 17. Also a minor update, 10.10.1 included several reliability improvements for Wi-Fi, connecting to Microsoft Exchange Servers, sending Mail messages, and connecting to remote computers using Back to My Mac.
New Photos for OS X App in 10.10.3
Alongside OS X 10.10.3, Apple released the much-anticipated Photos app for Yosemite. Designed to integrate with the Photos for iOS app, the Photos for OS X app takes on Yosemite-style design elements with an emphasis on flatness and translucency. Photos for OS X is designed to replace both Aperture and iPhoto, Apple's previous photo editing software.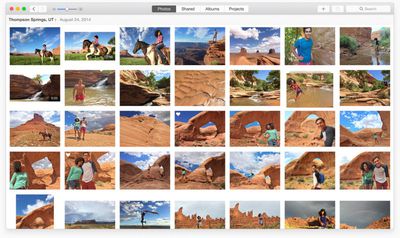 Photos in the Mac app are organized into Moments, Collections, and Years, with a options for Shared, Albums, and Projects, all of which will be immediately recognizable to anyone who has used the iOS app. Albums offers deep levels of organization, sorting photos into sections like Last Import, Favorites, Panoramas, Videos, Slo-Mo, Time-Lapse, Bursts, and more. There's also an option to display all photos and an option to display photos organized by face, a feature that comes from iPhoto.
The app integrates with iCloud Photo Library, so a user's entire collection of photos can be synced to both iOS devices and the Mac. iCloud Photo Library is not required, however, and Photos for OS X can be used as a standalone app for managing large photo libraries if a user does not want to purchase iCloud storage space.
When first opening up Photos for OS X, users will be prompted to import existing iPhoto and Aperture libraries. For iPhoto, projects like albums, folders, books, cards, calendars, and slideshows will be integrated into Photos for OS X, while metadata like star ratings and flags will be transformed into searchable keywords. iPhoto Events are transformed into albums.

For Aperture, metadata including star ratings, color labels, and flags will be transformed into keywords when importing an Aperture library to the new app. All projects will become Albums, and metadata like copyright, contact, and content is retained but not visible.
If iCloud Photo Library is turned on, migrating libraries from iPhoto and Aperture will prompt users to purchase iCloud storage space if necessary. With iCloud Photo Library, photos are accessible on any device that has it turned on.
Editing Tools

Photos for OS X has a wide selection of editing tools. There's an "Enhance" button to improve photos with a single click, and there are "Smart Sliders" for more customized adjustments. A list of tool categories and options is below:
- Light: Adjustments for exposure, highlights, shadows, brightness, contrast and black point.
- Color: Adjustments for saturation, contrast, and cast.
- Black and White: Turn photos black and white and adjust intensity, neutrals, tone, and grain.
- Levels: Correct photo aspects like tonal range, color, and contrast via histogram by adjusting mid-tones, highlights, and shadows.
- White Balance: Adjust the white balance to make photos warmer or cooler with Neutral Gray, Skin Tone, and Temperature/Tint options.
- Definition: Increase image clarity.
- Vignette: Darkens the edges of an image, with adjustments for strength, radius, and softness.
- Revert: Lets users compare edits to the original version by pressing the "M" key and gives an option to revert changes.
Along with the above mentioned adjustment tools, Photos for OS X also includes eight built-in filters to make quick adjustments to photos. Options include Mono, Tonal, Noir, Fade, Chrome, Process, Transfer, and Instant. There's also a new cropping tool, which offers a "rule-of-thirds" automatic cropping feature and options for rotating images.

Sharing
Photos can be shared through the Share menu to sites like Facebook, Twitter, and Flickr, and there are also options to send photos via iCloud Photo Sharing, Mail, Messages, and AirDrop. The Share menu can be customized with sharing tools for sites that offer sharing extensions. There's a built-in printing feature for creating photo books, cards, prints, and more directly within the app, like there was in iPhoto.

Availability
OS X Photos can be acquired by updating to OS X 10.10.3, which was released to the public on Wednesday, April 8.
Yosemite Redesign Details and Features
OS X Yosemite has been updated with a redesigned interface that refines the look of Mavericks with design cues taken from iOS 7. Much like iOS 7, Yosemite features a "flatter" style that does away with gloss heavily emphasizes translucency.
Menu bars, side bars, and other window elements have taken on translucent designs, allowing more of a user's chosen background to shine through. The dock is now 2D, and many of the buttons, icons, and apps throughout the operating system have been updated with a simpler, "more harmonious" design.

Translucent toolbars let you know there's more to see than what's visible in the window as you scroll. And a translucent sidebar lets you see what's hidden behind the active window. So the interface takes on the look of your desktop image and your content -- making your Mac experience different from anyone else's.
Apple has updated the fonts in OS X Yosemite, refining them to make them more legible and consistent "across the Mac experience." There's a new typeface in app windows, menu bars, and throughout the system, which Apple promises looks "incredible" on the Retina display.
Toolbars, such as those in Safari, have been slimmed down. For example, Safari no longer displays favorites in the menu bar, as Yosemite makes them accessible when clicking in a "smart search" box instead. Streamlining, simplifying and minimizing interface elements seems to be Apple's goal with Yosemite.
Notification Center
Yosemite's Notification Center has gained a refined design along with a new "Today" feature that mirrors the functionality of the Notification Center in iOS. Today is designed to present a summary of the day's upcoming events, reminders, and birthdays.

Notification Center incorporates stock Apple widgets like Calendar, Weather, Stocks, World Clock, Calculator, and Reminders, but it can also be customized with third-party widgets from the Mac App Store. During a demo, a Sports Center widget was dragged into the Notification Center, displaying sports scores directly in the Today view.
As it is fully customizable, Notification Center can be adjusted for each person's specific needs, and a list of apps that take advantage of Notification Center can be found here.
Spotlight
Not only has Spotlight received the same translucency treatment as many of Yosemite's apps, it has also been updated to incorporate additional sources of information. Spotlight searches will now provide information from Wikipedia, Bing, news, Maps, movies, and more.
Type in a term like "national park," for example, and Spotlight will provide a snippet of a Wikipedia article as a result. Look up a movie, and it will provide both showtimes and reviews from Rotten Tomatoes. The new Spotlight even has currency and unit conversion tools, allowing users to make instant conversions like dollars to euros, feet to meters, and more.

Safari
Many of the default apps that come pre-installed with Yosemite have received new abilities and new looks. Safari, for example, has a slimmed down toolbar that's accompanied by a "smart search" feature that provides access to favorite sites, much like Safari in iOS 7. Search also provides Spotlight suggestions from sources like Wikipedia, Bing, Maps, news, and iTunes, along with standard search results.
A revamped Tab View displays all open tabs in a tiled arrangement, with tabs from the same sites arranged together. According to Apple, Safari in Yosemite includes an improved Nitro JavaScript engine, making it faster than ever. It's also more energy efficient, providing functions like two extra hours of battery life when watching Netflix.

With Yosemite, it is possible to open a single tab or window in Private Browsing mode, a feature that previously required all tabs to switch to private, and DuckDuckGo, which does not track users, is now a search option.
Apple has been encouraging FireFox and Chrome users to give the newly updated Safari a try, with a pop up Notification that reads "Try the new Safari. Fast, energy efficient, and with a beautiful new design."
Mail
Mail in Yosemite has gained some impressive new features along with its redesign. Now featuring a cleaner design, Mail now supports Markup, a feature that allows users to annotate attachments right in the app. For example, a user might sign a document or write a funny caption on a picture before sending it out.

Large mail attachments are now managed by Mail Drop, a feature that allows users to send attachments that are up to 5GB in size by leveraging iCloud. Attachments are automatically uploaded to iCloud, with recipients receiving the files as a standard attachment in Mail or as a file to download in other clients.
Continuity
Improving the integration between iOS and Mac devices was one of Apple's major goals with iOS 8 and Yosemite. Better communication between devices was largely achieved with "Continuity," a set of features available for both Yosemite and iOS 8.
Handoff and AirDrop
One of the major new features of Continuity is Handoff. As described by Apple, Handoff can be used for several different activities, including email and web browsing. Users can begin writing an email on an iPhone, for example, and then switch to a Mac to finish.
Websites work similarly, allowing users to browse the web on one device, and then continue looking at the same website on another device. While this is already possible via iCloud Tabs, Handoff makes the entire process easier and extends the functionality to other apps.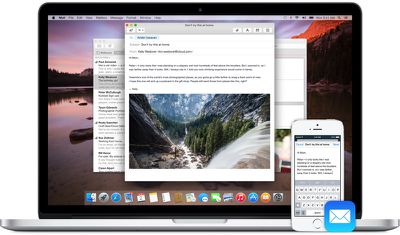 As demoed during the keynote, iOS devices and Macs are "aware" of each other, and can pick up a task when nearby. When composing an email on a Mac, for example, users will see an icon on the screen of their iPad or iPhone that can be tapped to allow them to continue writing on the iOS device. Similarly, an iPhone near a Mac will cause the activity to automatically pop up on the Mac's dock, allowing for a seamless transition between devices.
Handoff works with functions like email and web browsing, but it also works in apps. Apple has built Handoff functionality into its apps like Pages, Numbers, Keynote, and more, which will allow a document started in an iOS version of that app to be seamlessly picked up within the Mac app, and vice versa. Apple has also opened up this functionality to third-party developers, allowing them to build Handoff into their apps. While apps using Handoff will open their Mac and iOS counterparts on relevant devices, when there is no Mac app available for an iOS app, developers will be able to redirect users to a website or a web-based version of an app and vice versa. Having two apps for the feature is not a necessity, as it also supports browser-to-app or app-to browser functionality.
It appears that Handoff is limited to Macs that include Bluetooth LE(4.0), which means that many Macs produced before 2011 will not have access to the feature. At this point in time, it does not appear that a Bluetooth LE adapter enables the feature.
AirDrop, Apple's peer-to-peer file sharing service, also now works between Macs and iOS devices. Previously, AirDrop on an iOS device only worked with other iOS devices, while AirDrop on a Mac only worked with AirDrop on other Macs.
Phone Calls and SMS Messages on Macs
The enhanced Continuity between OS X and iOS also allows Mac devices in close proximity to an iPhone to both place and receive calls, leveraging Bluetooth and WiFi with the iPhone serving as a relay. Users can answer a call made to their iPhone on their Mac, a useful feature when an iPhone is across the room charging or otherwise inaccessible.

Similarly, iPads and Macs are now able to receive SMS messages from non-Apple devices, a function previously limited to the iPhone. iPads and Macs are also able to utilize an "Instant Hotspot" feature that allows them to connect to an iPhone hotspot with just a click, and AirDrop is also cross-platform. For users wondering how to set up Instant Hotspot, MacRumors has published a detailed how-to article.
iCloud Drive
iCloud Drive is a new facet of iCloud that puts an iCloud folder directly in the Finder. All files that have been uploaded to iCloud from various iOS and Mac apps can be found in iCloud Drive, but more importantly, it also allows users to store their own files, much like Dropbox.
The iCloud Drive folder within Finder on Yosemite works like any other folder, allowing users to drag and drop files to it. Additional folders within iCloud Drive can also be created, letting users organize all of their cloud files.

iPhones and iPads also have access to iCloud Drive, and thus access to all of a user's personal cloud files. Content can also be managed on Apple's iCloud.com website and Apple is planning an app for Windows as well.
iCloud Photo Library on iOS 8 will take advantage of iCloud Drive, storing all of a user's photos in the cloud. Apple is working on a similar solution for Macs called Photos, which will be released in the spring of 2015.
Apple introduced new iCloud pricing during its iCloud Drive announcement. The company now offers 5GB of iCloud storage for free, with 20GB available for $0.99/month and 200GB available for $3.99/month, which puts its prices on par with competing services like Dropbox.
Known Issues
Many people who have installed OS X Yosemite have been experiencing problems with slow Wi-Fi speeds or continual disconnections. Though a variety of fixes have been proposed, it does not appear that there's a single solution that works for all users.
The OS X Yosemite 10.10.1 update that Apple released in November included improvements for Wi-Fi reliability, but according to reports on Apple's support forums, the update did not fix the bulk of the Wi-Fi problems that people are seeing. OS X 10.10.2, released on January 27, also fixed some remaining problems with Wi-Fi.
Yosemite How Tos and Guides
Compatible Macs
OS X Yosemite will run on all Macs that can run OS X Mountain Lion and OS X Mavericks. It requires 2GB of RAM and 8GB of storage space. Mac App Store access (introduced with Snow Leopard) is also required.
OS X Yosemite can be installed on the following Macs: iMac (Mid 2007 or newer), MacBook (Late 2008 Aluminum, or Early 2009 or newer), MacBook Pro (Mid 2007 or newer), MacBook Air (Late 2008 or newer), Mac Mini (Early 2009 or newer), Mac Pro (Early 2008 or newer), Xserve (Early 2009).
OS X El Capitan is now the current version of OS X and it too is available free of charge through the Mac App Store and runs on all Macs that support OS X Yosemite.