watchOS 8
The newest version of the watchOS operating system, available now.
watchOS 8
watchOS 8 is the newest version of the watchOS operating system that runs on the Apple Watch. It was previewed at WWDC in June, and was released to the public on September 20, 2021.
The watchOS 8 update introduces new features to help users stay healthy, active, and connected to friends and family, with most of the new additions serving as extensions of changes added in iOS 15.
There are several improvements to Wallet, including Ultra Wideband support for digital car keys, and new digital keys for unlocking doors at home, the office, and hotel rooms. All of these new key features work with the Apple Watch's tap to unlock feature. In some states, users will be able to add their driver's license or state ID to Wallet, and select TSA checkpoints will begin accepting digital IDs.
The Home app has been overhauled to make it easier to get to HomeKit accessories and scenes as needed, with status updates for thermostats, light bulbs, and other accessories. HomeKit devices can be controlled by room, and those with HomeKit-enabled cameras can now see who is at the door right on the wrist. For Intercom users, there's a quick tap feature for getting in touch with everyone in the home.
Apple has added two new workout types with Tai Chi and Pilates, which can be selected when choosing a Workout on the Apple Watch. For Apple Fitness+ users, there's Picture in Picture support, filter options, and options to stop and resume an in-progress workout on any device.
The Breathe app is now the Mindfulness app and it has been enhanced with a new Breathe experience and a Reflect session for mindful intention. Reflect gives users a thoughtful notion to consider that invites a positive frame of mind. The Breathe and Reflect experiences offer new animations and a series of tips on meditation.
When sleeping, the Apple Watch now measures respiratory rate (the number of breaths per minute) in addition to time asleep, heart rate, and blood oxygen. Respiratory data can be viewed in the Health app and is a metric that can be used to track overall wellness.
There's a new Portrait Watch Face that pulls portrait photos from the iPhone and uses the depth data to overlay the time with the faces of your favorite people, and the Photos app has been redesigned with new ways to view and navigate collections. Memories and Featured Photos sync to Apple Watch and can be shared right from the wrist.
Apple added a dedicated Find Items app for locating your lost devices, and the Music app has been redesigned to let users share songs, albums, and playlists. The Apple Watch weather app supports Severe Weather notifications, next hour precipitation alerts, and updated complications.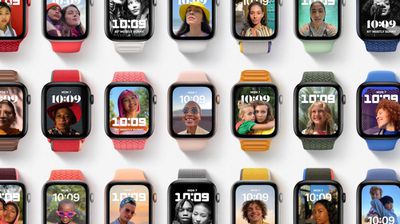 In the Messages app, Scribble, dictation, and emojis can be combined within the same message, and there's a new option to edit dictated text. The Apple Watch supports sending GIFs in Messages with watchOS 8, and there's now a Contacts app to make it easier to get in touch with people when an iPhone isn't available.
The Focus feature added to iOS 15 also syncs to the Apple Watch so you can reduce distraction and be in the moment to focus on the task at hand. Apple also suggests Focus modes, so if you're working out, you'll be prompted to choose the Focus for fitness option.
watchOS 8 introduces support for multiple timers at once, and more apps support the Always-On display, including Maps, Mindfulness, Now Playing, Phone, Podcasts, Stopwatch, Timers, and Voice Memos, plus third-party developers can create Always-On display experiences for their apps.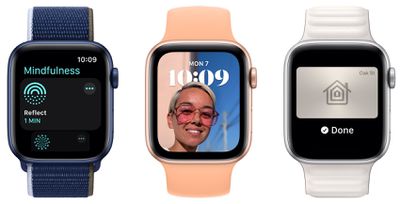 Apple has added an AssistiveTouch feature that uses the built-in sensors in the Apple Watch to detect hand gestures for control purposes.
Note: See an error in this roundup or want to offer feedback? Send us an email here.
Current Version
watchOS 8.7 is the current version of watchOS, which was released to the public on Wednesday, July 20, bringing bux fixes and performance improvements. A previous update, watchOS 8.6, brought ECG functionality and irregular heart rhythm detection to Mexico. watchOS 8.5, added the ability to authorise Apple TV purchases and subscriptions, EU digital COVID-19 vaccination cards in Apple Wallet, updates to irregular heart rhythm notifications designed to improve atrial fibrillation identification, and Fitness+ audio commentary.
watchOS 8.1, brought enhanced algorithms to detect falls during workouts, an option to enable fall detection during workouts only, COVID-19 vaccination card support in the Wallet app, and SharePlay support in Fitness+. It also included bug fixes, such as to rectify a bug that meant that the Always-On display may not display the time accurately for some users when their wrist is down.
Focus
Focus, the new iOS 15 feature that's designed to help you stay on task, is also available on Apple Watch and across your Apple devices. If you set a Focus mode on one device, it syncs across everything to prevent distractions.
You can set different Focus modes for activities like working, relaxing, exercising, and driving, limiting the apps that are able to send you notifications while you're busy. Apple offers Focus suggestions, but you can also create your own.
When you're in a Focus mode, someone who tries to Message you sees a note that you're busy, so they won't interrupt, but there's still an option to bypass it in an emergency.
Wallet
The upgrades introduced for the Wallet app in iOS 15 are also available on the Apple Watch, so your watch will be home to all kinds of supported keys. Car key can unlock your car if you have a supported model, and HomeKit-connected locks can add digital keys to your watch so you can unlock your home hands-free.
Multiple lock brands plan to support this new feature, and there's also support for Family Sharing so digital keys can be shared safely with family members.
Select hotels are adding integration with iPhone and Apple Watch, letting Apple devices be used to unlock hotel room doors in lieu of a traditional card, and in some U.S. states, IDs and driver's licenses can be added to the Wallet app and used at TSA checkpoints in airports.
Mindfulness
Apple in watchOS 8 renamed the "Breathe" app Mindfulness to reflect new functionality that's been added. In addition to breathing exercises, watchOS 8 includes a Reflect feature that helps you establish a meditation practice by offering a thought-provoking theme to spark mindfulness along with an eye-catching animation.
For the Breathe app, Apple has added new visualizations and tips that are meant to help you focus. Using the Breathe and Reflect features will add Mindful Minutes to the Apple Watch, along with your average heart rate to show a mind-body connection.
Photos and Portrait Mode Watch Face
With watchOS 8, Apple added a second Photos watch face that pulls in the Portrait mode images that you've taken on the iPhone. Using the depth information included with the Portrait mode photos, the Apple Watch creates dynamic, multi-layered watch faces that show your favorite people over the time.
The Photos app on the Apple Watch supports Featured Photos and Memories, so you can see new pictures each day. Memories photo collections are displayed in a grid view, and you can tap into them to see them in full on the Apple Watch's face.
Photos can be shared from the Photos app to Messages and Mail, so if you see a fun memory, you can share it with friends and family without having to open up your iPhone.
Home App
Apple redesigned the Home app on the Apple Watch to be more useful and intuitive to use on the wrist. When one of your smart devices is activated, watchOS 8 offers up suggestions for others located nearby. If someone rings your doorbell, for example, the Apple Watch will suggest options like unlocking the door or turning on the lights.
watchOS 8 offers scene suggestions based on the scenes that you activate at different times of the day, and the main interface has status symbols for each of your connected devices so you can see the temperature, whether lights are on, and more, at a glance. You can also see scenes and accessories organized by room.
There's a camera view in the Home app on Apple Watch that lets you see feeds from your HomeKit cameras, and two-way audio controls are available.
Messages and Mail
Composing iMessages and emails from the wrist is easier in watchOS 8 with new options to use dictation, Scribble, and emojis from one view. There's now an option to correct errors in dictation using the Digital Crown to scroll, and GIFs can be sent in the Apple Watch Messages app.
Apple Music
Songs, albums, and playlists can be shared via Messages and Mail through the redesigned Apple Music app.
Sleep App
When sleeping, the Apple Watch is able to calculate respiratory rate in watchOS 8, a metric that can provide insight into overall health as it fluctuates over time. Respiratory rate and other health metrics are listed in the Health app.
Workout
You can now keep track of Pilates and Tai Chi workouts using the Workouts app.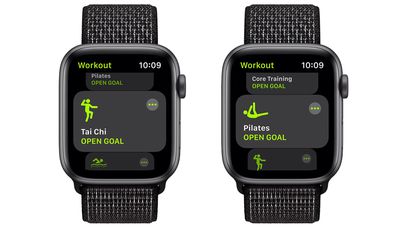 Workout Voice Feedback
Apple in iOS 15 added a new setting for Voice Feedback during workouts. This option lets Siri provide updates on workout progress, such as passing a new mile marker in an outdoor run or reaching a split point in a workout.
There are also alerts for when various milestones are reached, such as hitting a Move goal or reaching an Exercise goal.
Voice Feedback can be enabled in the Workout section of the Settings app on the Apple Watch.
Time to Run and Audio Meditations
With the launch of the Apple Watch Series 7, Apple plans to introduce new "Time to Run" and "Audio Meditations" features that will accompany the "Time to Walk" option that was introduced earlier this year.
Find My
Apple added the Find My app to watchOS 8 so you can locate your missing devices right from your wrist.
Multiple Timers
You can set multiple timers that will run simultaneously in watchOS 8, through Siri or through the Timers app.
Weather
The weather app on Apple Watch supports severe weather notifications, next-hour precipitation alerts, and rain intensity readings.
Accessibility
AssistiveTouch uses the built-in motion sensors in the Apple Watch to allow for gesture-based controls for people who are limb different. Hand gestures can be used to answer calls, control an onscreen pointer, launch actions, and more.
Other Features
Enhanced Family Setup - Family Setup supports transit cards, Google Calendar, and Google Mail accounts.
Audio Controls - Real-time headphone audio levels are shown in Control Center.
Contacts - Apple has added a Contacts app so you can find people's phone numbers, email addresses, and other information without the need for the iPhone.
Always-On Enhancements - Apple has added always-on display functionality to additional apps, including Alarms, Maps, and Stopwatch. There's a new always-on API that lets third-party developers build always-on experiences for their Apple Watch apps.
watchOS 8 Guides and How Tos
We've created in-depth guides that cover all of the major features in watchOS 8, and each guide is outfitted with useful how tos. Make sure to check out each one to get a detailed rundown on the new features and how to use them.
Compatibility
watchOS 8 is compatible with the Apple Watch Series 3, Series 4, Series 5, Series 6, and Apple Watch SE. It is not compatible with older Apple Watch models.